Pelvic Exams Done on Anesthetized Women Without Consent: Still Happening
Pelvic Exams Are Being Done Without Prior Consent
Not too long ago, a medical student sent me an email. He was concerned that he had been asked to learn to perform a pelvic exam on a woman who had been anesthetized before having a surgical procedure. He said he and three other students had done the exam without incident, but it still bothered him that he thought there had been no prior consent from the patient for serving in this role.
I had thought this sort of teaching practice had ended. But apparently it has not.
In many teaching hospitals around the world, students doing their gynecology rotation "practice" a pelvic exam on a surgical patient after they're put under anesthesia. Sometimes, more than one student will practice the exam, with many sets of gloved fingers in the patient's vagina without their knowledge.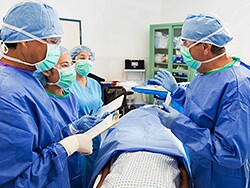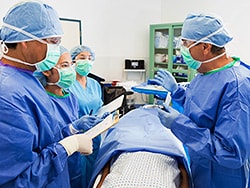 In April of this year, Phoebe Friesen, then a researcher at NYU School of Medicine and now at the University of Oxford, published an article about the practice in many medical schools of medical students being asked to accompany female patients into surgery, and perform a pelvic exam for educational purposes, while the patient was unconscious. The patient had neither been asked for nor gave prior consent.[1]
Friesen noted that the examination takes place without any attention paid to the patient's desires and wishes, which were never elicited, and so violates any chance for her to express her autonomous preferences with regard to her body.
Currently, the practice is illegal in only four states: Hawaii, California, Illinois, and Virginia. Friesen argues that the practice of performing pelvic examinations on women who are under anesthesia and have not consented is unjust.
Touching Someone Without Consent Is Unethical
Why is this an utterly unethical way to teach students? Consider what it was that Larry Nassar did to so many women.
Larry Nassar, the once world famous USA Gymnastics and Michigan State University sports doctor, pleaded guilty last year to numerous counts of first degree criminal sexual conduct in two counties in Michigan. He admitted to using his trusted medical position to assault and molest girls.
An outraged judge Rosemarie Aquilina, after hearing from 150 women, sentenced him to 40 to 175 years in prison for seven counts that occurred in Ingham County, Michigan.
What exactly did Nassar do to the women?
Nassar touched the women's genitalia without their consent. He claimed to be treating them, although there is no evidence that digital manipulation of their vaginas had any medical purpose or rationale.
Touching someone without their consent in an intimate area is both unethical and illegal. Claiming a medical rationale for this sort of nonconsensual touching by a doctor is not an excuse.
Get Prior Consent or Hire Patients
Obviously, those still teaching and learning pelvic exams on nonconsenting women are not doing so for sexual gratification. But unconsented touching is still both a violation of a person's dignity and a terrible way to teach students to respect their patients.
A casual poll undertaken by a Canadian medical student of her acquaintances in the profession revealed that 72% of the doctors and medical students she asked had done medical exams on unconscious patients without consent. That is 72% too many.
The most straightforward way to involve patients in teaching is to ask them. Getting consent ahead of time is the ethical way to proceed.
If that does not produce sufficient numbers of teaching subjects, then it is time to move on to using hired patients for these exams. Many schools do, and some women find it rewarding both to be paid and to help students learn how to do pelvic exams properly.
There is no excuse or rationale for touching a woman or a man without their permission, even if it is for a good purpose, such as learning to do physical examinations. Consent from the patient is not a negotiable requirement. The mutual respect that doctor and patient ought to have for one another is affirmed when the doctor asks whether the patient is comfortable being involved in teaching the next generation of doctors.